The goal of Urban Tapestries is to discover if annotation and story-sharing can become an integral part of urban living. With this over-arching research mandate in mind, we developed a series of design requirements for how people should experience our project:
people should be able to access information via devices that are generally familiar to them, i.e. PDAs or mobile phones;
people should be able to access information in a variety of media (meaning text, still pictures, and, where possible, audio and video);
people should be able to access information whilst walking down urban streets (that is, not indoors connected to a computer, and not standing at a particular outdoors location like a kiosk);
people should be able to access information about the specific street address where they are standing, i.e., "right here" instead of the block or the neighbourhood;

(For all of these design requirements, it's important to keep the range of the project in mind: we aim to reasonably predict what might occur within a 2- to 7-year time frame. This allows us to use off-the-shelf hardware and software solutions in our prototype, and grounds our thinking in the extrapolation of current trends. For more long-term speculation of where these tendencies might lead, see the subsequent section on Future Technologies.)
We have translated the above design requirements into a series of specifications for the hardware and software of our prototype. The following sections examine our proposed solutions for each of these specifications.
ACCESSING INFORMATION ON FAMILIAR DEVICES
Currently, both mobile phones and personal digital assistants (PDAs) are widely used by urban dwellers. We are building a client application that will run on a recent release of each of these platforms that is able to run Java. While it may be impractical to construct client software that will run on every conceivable mobile phone or PDA, it seems a reasonable goal to aim at the market of Java-enabled devices.
By building our client for currently-existing devices rather than any experimental units that we might construct, we gain access to a wide population of users that are already familiar with the basic operation of these devices.
ACCESSING INFORMATION IN DIFFERENT MEDIA
Most cities are dotted with historical plaques and other fragmentary signage that gives disconnected information – usually wayfinding or commercial in nature – about the city. For Urban Tapestries, we want to make available as full a range of media as possible: not only text, but pictures; and sound and video if it's technically feasible.
To enable such multimedia displays, we need three separate capabilities: capture, transmission, and display. Fortunately, multimedia capture devices are widely available and portable. Digital cameras, recorders, and camcorders are widely owned by the same general population that uses mobile phones and PDAs. For the purposes of our prototype, we are assuming that users will create multimedia content on their own using these devices.
Multimedia transmission will depend on the available bandwidth to our target devices, which we discuss more fully below.
Multimedia display will be through means of standard HTML augmented by Flash. So as long as our target devices can operate a current version of an internet browser, the multimedia information for Urban Tapestries can be easily displayed.
ACCESSING INFORMATION WHILST WALKING
Mobile phones have been the first widespread example of a technology that we can access no matter where we are standing in the city. The challenge is to expand this experience to the other forms of media required for the ideal operation of the Urban Tapestries prototype: still pictures, audio and video.
This requires not only sufficient bandwidth, but sufficient coverage in our target neighbourhood of Bloomsbury. Mobile phone networks now use the GPRS standard for their current 2.5G networks, which provides a sufficient bandwidth to display still pictures, and possibly a limited version of streaming audio and video. We plan on testing Urban Tapestries on a current 2.5G phone using GPRS to evaluate this capability. Though widespread in its coverage – essentially the same as mobile phone coverage – GPRS does have the drawbacks of both a per-unit charge and a relatively slow speed of 19.2Kbs at best. The advent of wireless LANs (or Wi-Fi) has offered another option with perhaps greater available bandwidth: depending on distance from the access point, Wi-Fi can offer up to 200Kbs. At this bandwidth, streaming audio and video become much more feasible.
Although its use is growing quickly, there are tradeoffs in using Wi-Fi. For one, its range is limited: a normal access point has a range of only 100 metres or so; this can be cut dramatically by intervening buildings or foliage. Another tradeoff is security, as wireless networks are inherently more accessible to the public and can be hard to secure.
To help mitigate both of these concerns, we have chosen to use the LocustWorld MeshAP access points to set up our wireless network in a section of Bloomsbury and a few adjacent streets (see map). These access points set up a mesh network amongst themselves, which extends the range beyond that possible with completely separate access points. As well, access to the network will be by means of virtual private network (VPN), which will increase security of the network.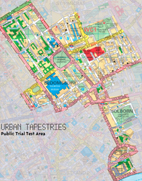 ACCESSING INFORMATION ON A PARTICULAR STREET ADDRESS
As outlined above, most of the stories that we generate about our lives in the cities revolve around our trips between and by different points in the cities. Almost always, these points are defined – by both ourselves and our listeners – as their associated street addresses. Accordingly, any system of annotating the city should provide access to information keyed to specific individual street addresses.
Although there is some variation due to the varying width of buildings, a resolution of between 5 to 10 metres should be sufficient to pinpoint a location in the city as being at a particular street address. Most location technology cannot yet deliver this resolution, but there are some hopeful developments on the horizon.
The most widespread form of location technology is based on the Global Positioning Satellite (GPS) system. By receiving signals from this constellation of 24 satellites, current receivers can deliver location information within 20 metres in open country, and somewhat less in the city, where foliage and buildings can interfere with the ability to receive signals from the satellites.
A relatively new series of systems, generically called WADGPS (Wide Area Distributed GPS), are providing terrestrial-based error correction signals that can bring resolution to 5 metres in open country – which is the range of resolution that we need in order to deliver accuracy that is generally correct to one street address. In North America, the WAAS system has been in use for some time, and the EGNOS system is currently being tested in Europe and is slated to be permanently available early in 2004. Unfortunately, these additional error-correction signals are still hampered by the ability to fix on available satellites from within the city. We will be conducting tests within our Bloomsbury target neighbourhood to determine what the average resolution of these systems actually is.
Some hope for the future improvement of GPS signals lies in the development of various amplification schemes that increase the apparent strength of the GPS signal, thus providing the 5-metre resolution that is available under ideal conditions. For the present, however, we need some method of approximation for Urban Tapestries that will allow us to deliver information about particular street addresses. On the hardware side, we are continuing to investigate alternative distributed GPS add-ons that might deliver the desired resolution. But we have also decided to offer a hybrid solution that can definitively deliver the desired resolution. To provide an Ordnance Survey map of the general area that a user is standing in, we will use a GPS/EGNOS receiver to fix a position within 30 metres of the user, and have the server deliver a map screen that is centred on that spot. The users themselves will then indicate by clicking on the map exactly which street address they wish to interact with (either for viewing or authoring). Since can most often determine this information from signage on the street, we leverage our technological solution with the knowledge that the users bring to the situation. (And for those situations where the street address can't be determined on the spot, it will be possible to either browse through the available options (for viewing), or modify the specific fix-to point (for authoring.)